---
Greeting from President, Tadashi Utsumi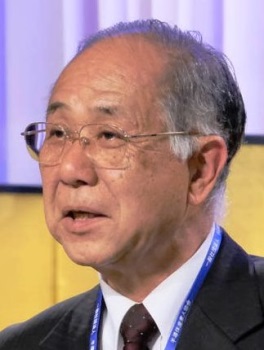 It is a great honor to accept the nomination as the fourth president of SSIS. (Society of Semiconductor Industry Specialists)
At the same time, it is my big challenge to take over the position from well-known predecessors within the semiconductor industry including the first president; Mr. Tsuyoshi Kawanishi, the second president; Mr. Tsugio Makimoto, and the third president; Mr. Hirokazu Hashimoto.
The business environment surrounding semiconductor related industry has been drastically changed from the time of SSIS's foundation to present.
Indeed, the Japanese semiconductor companies are still having a difficult situation.
Under those circumstances, our activities have been changed.
As for seminar for members, we changed the name to "forum" with the improvement of content. Our newsletter; "Encore" has increased the writing contributions from members. Also, cultural activities have expanded to semiconductor related factory tours, visiting scenic and historical interest spots and golf tournaments to promote friendships among members. Furthermore, the "Semiconductor History Museum of Japan" (virtual museum on the web) was constructed, semiconductor related lecture courses and talent promotion activities such as translation services of technical documents by members were started. In addition, we arranged meetings for opinion exchange to revitalize the semiconductor related industries including the support of human resource mobility.
Thus, we have promoted various types of activities. We truly feel that our principle; "SSIS will support individual members to utilize their knowledges and to enhance their lives, and to contribute experience and human-networks of specialists for the prosperity and progress of Semiconductor industry" unchanged to carry out.
Whereas the ideal state of SSIS should be revised in accordance with the environment changes, I think that I should take over the principle of our foundation and make my best effort to maintain as the president as well as a member.
I think that it is truly important to realize timely and appropriate service for members by utilizing the essential qualities of SSIS. And I believe that it will result in the increase of members and contribution to the society.
The value of SSIS is your participation to its activities. I would like to invite your participation along with your knowledges and experiences.
With best regards,
Tadashi Utsumi
President of Society of Semiconductor Industry Specialists